WatSPEED, University of Waterloo
Tractus Elevates University of Waterloo's WatSPEED Tech Horizons ChatGPT Executive Webinar with Professional Production
Delivering What Executives Really Need to Know About ChatGPT with a Professional Webinar
WatSPEED partnered with Tractus, a company that specializes in online and hybrid event production, to produce an hour-long webinar on the topic of generative AI and its impact on Canadian businesses and industries. Since the webinar was aimed at an executive-level audience, the production had to be smooth and crystal clear. The webinar was delivered via Zoom Webinar to a concurrent audience of 1400 people.
The Challenge
The University of Waterloo's WatSPEED was looking to increase the production value of their ChatGPT executive series webinar from a simple Zoom call to something beyond the typical "speakers in front of their laptop" format.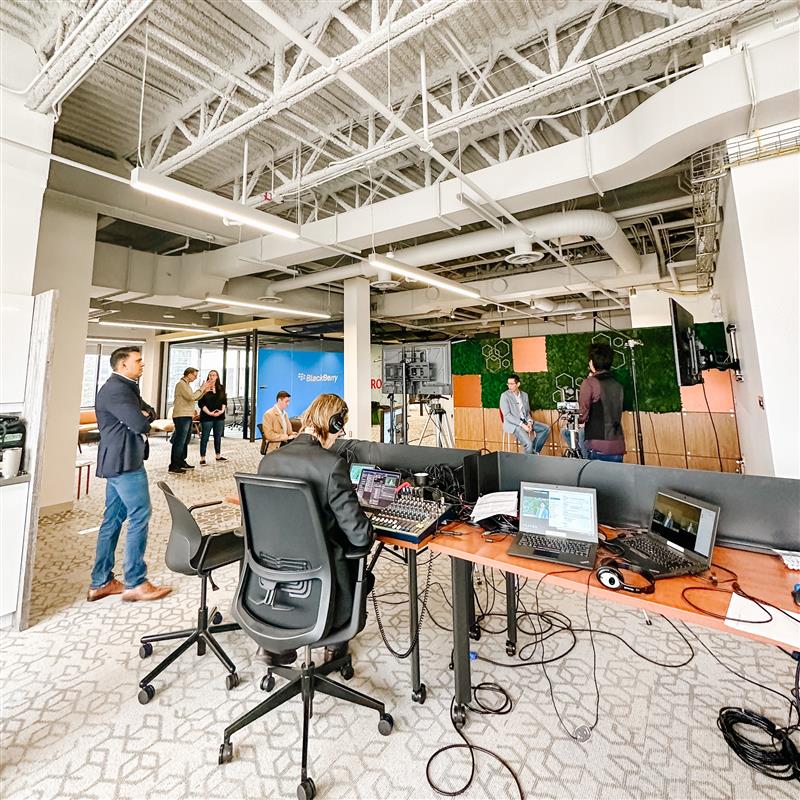 Tractus brought their expertise in broadcast and television production to heighten the production value of WatSPEED's ChatGPT webinar. By providing their professional production services, Tractus made sure that the webinar was engaging and informative.
As a result WatSPEED achieved its goal of educating and informing its executive audience about the potential impact of generative AI on Canadian businesses and industries. In addition, Tractus made the webinar replay available for WatSPEED as soon as the stream had ended. WatSPEED sent the replay out to their list of 2100 registrants the same day.
The talk featured Dr. Jimmy Lin, David R. Cheriton Chair of the David R. Cheriton School of Computer Science. Dr. Lin provided insight into where ChatGPT appears to be headed and identified what organizations can do to prepare for the disruptive potential of generative AI technologies. He also offered early indicators on how these technologies may evolve and emphasized the implications for business models, work processes, and talent management.
Tractus' Solution
As part of the webinar production, Tractus transformed the University's GEDI collaboration space into a live webinar production studio. Taking cues from Tractus' experience in television news production, two filming areas were created, complete with teleprompters, studio lighting, and boom microphones. As the webinar was aimed at an executive audience, Tractus also used clip-on microphones as a backup for each presenter. The Tractus team delivered, set up, and ran all equipment, including lights, cameras, tripods, light stands, and video switching. Tractus set up teleprompters and helped facilitate rehearsals for both content and staging to ensure the presenters were well-prepared.
A Successful, High-Engagement Event
Since recording the webinar, it has been watched over 12,000 times, and has generated countless leads for WatSPEED's professional development programs, in particular for their executive leadership series.
If your company is looking to produce a webinar with a high production value that goes beyond a typical "speakers in front of their laptop" Zoom call, Tractus is here to help. We'll set up a professional, TV-quality live stream at your office. Our producers will rehearse both the content and staging with your speakers and moderators to ensure your webinar goes off without a hitch. You'll get a recording as soon as the event is over – so you can send out the replay and follow-up messages to your audience while they're engaged. Looking to monetize your content after your webinar is over? Tractus provides advice on how to monetize your webinar and maximize its impact.
What Derek had to Say:
"I worked with Tractus to produce an executive webinar, and I had an amazing experience. Elias and his team were professional, flexible, and agile, and they provided all the necessary equipment to ensure that the event looked and sounded professional. The quality of the event exceeded my expectations and it was much more than just a simple presentation. I recommend Tractus for any virtual event production needs - they elevated our experience. Thank you!"
Derek Leung, Manager of Insights and Digital Sales for WatSPEED at the University of Waterloo
Are you planning an online or hybrid event? Perhaps you're looking to upgrade your conference room or make a hybrid workspace.
Click Here to Contact Us