Memorable, Profitable, Virtual
How to run virtual conferences, conventions, and trade shows that create meaning, value, and lasting connections.
In a post-pandemic world, virtual events have emerged as a mainstay for organizations of all sizes, from multi-billion-dollar corporations to the local church or synagogue. Virtual meetings, conferences, trade shows, and workshops have proven to be a viable, less expensive alternative to the in-person "real thing."
And that explains the reputation virtual events have garnered: If it looks cheap, it is. The bar to hold a massive gathering has never been lower, and it shows!
It's time to change virtual events forever.
In Memorable, Profitable, Virtual, digital event production entrepreneur Elias Puurunen bucks the trend of low-value virtual events where every expense is spared.
Whether you've only ever attended virtual events or have already hosted one (or more), Memorable, Profitable, Virtual will show you a new and better way to organize, run, and monetize a high-production value virtual experience.
Get the Book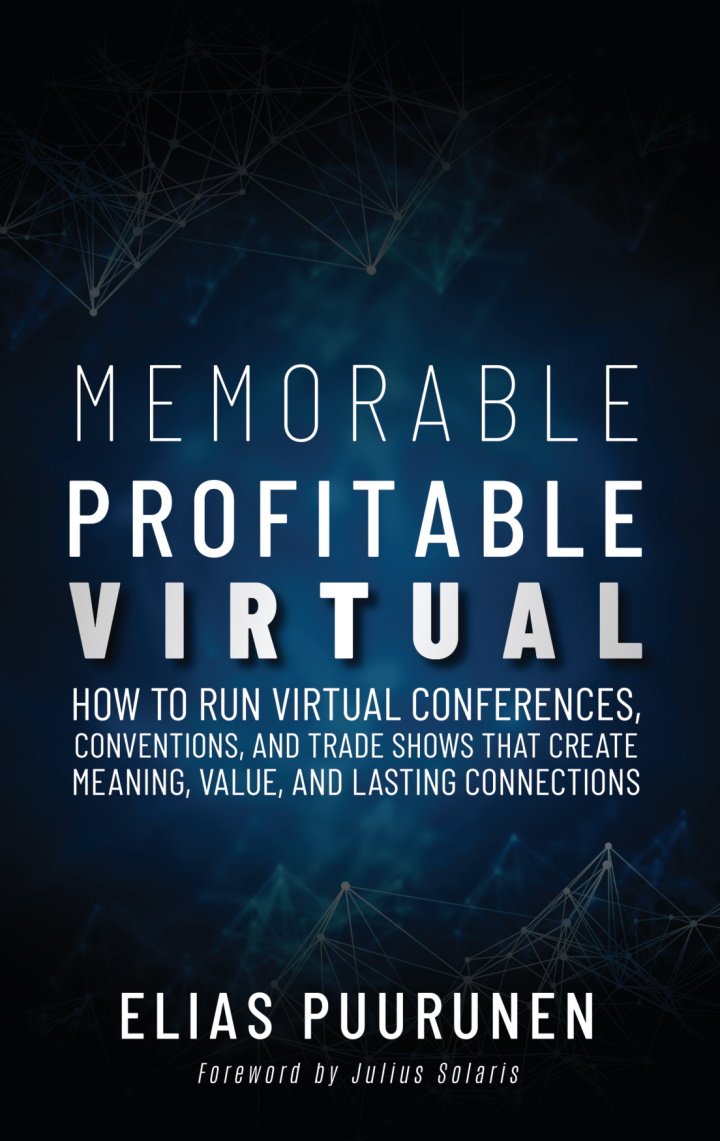 Editorial Reviews for Memorable, Profitable, Virtual
"2020 called, and they want their bad virtual events back! Planning a virtual event properly is as important as doing so for an in-person event, and if you want to do hybrid events, it can be even more so. Great virtual events can strengthen your brand awareness and engagement, expand your reach, and drive your business. But bad ones can send the sponsors, speakers, and attendees packing. We've learned a lot since the first panicked virtual events of 2020, and Memorable, Profitable, Virtual brings the learnings of a team that has a great track record in every type of event – from workshops, to keynotes, to tradeshows and online classes. This will give you an essential checklist, and should be on the reading list for anyone in charge of planning a virtual or hybrid event."
Marie Huwe
Senior Vice President, Dolby.io
"If you need to improve your virtual event delivery, there is value for you in this book. The sections on 1) 'Return on Event', 2) virtual event sample agendas, and 3) virtual event communications templates are sure to provide every reader with an alternative perspective on their current approach."
Vanessa Lovatt
B2B Media & Event Expert, Head of Strategy, Financial Times Live
"Even if you are planning yet another GHG super-emitter in-person event, this book is also for you! Through a candid and witty learning-by-doing journey, the author provides essential do's and don'ts for online, hybrid and in-person events. Following its recommendations will ensure that your event is a roaring, and eco-friendly success."
Dr. Catherine Beaudry
Canada Research Chair in Management and Economics of Innovation, Polytechnique Montréal
"In this book, Elias gives you everything you need to create a stunning virtual event. From high-level strategy to nuts-and-bolts implementation, he walks you through the entire process. I do this stuff for a living and I am blown away by Elias' attention to detail, forward thinking, and commitment to constant growth."
Kris Sharma
Founder, WebinarGrow
"Memorable, Profitable, Virtual offers a comprehensive playbook for creating successful virtual events. As someone who was beforehand unfamiliar with large-scale virtual events, I finished feeling confident I had a blueprint for success should I host one myself. I appreciated his emphasis on rehearsals and checklists, as I believe these can prevent so many day-of disasters I've witnessed over the years. I recommend this book to anyone thinking of hosting a virtual event."
Michael Dodd
Planning Hub
Build Your Ultimate Virtual Event
In Memorable, Profitable, Virtual, digital event production entrepreneur Elias Puurunen bucks the trend of low-value virtual events where every expense is spared.
This step-by-step guide shows businesses, brands, governments, and not-for-profits how to:
Decide whether to go virtual-only or hybrid
Promote your event so attendees demand another one next year
Avoid the 7 easy-to-make mistakes that ruin the attendee experience
Set a realistic virtual event budget (and follow it)
Find, prep, and compensate world-class speakers
Calculate return on investment for a virtual event
Book vendors and sponsors to cover all event costs
Stay in touch with attendees so they show up day-of
Deliver high-production value without going into debt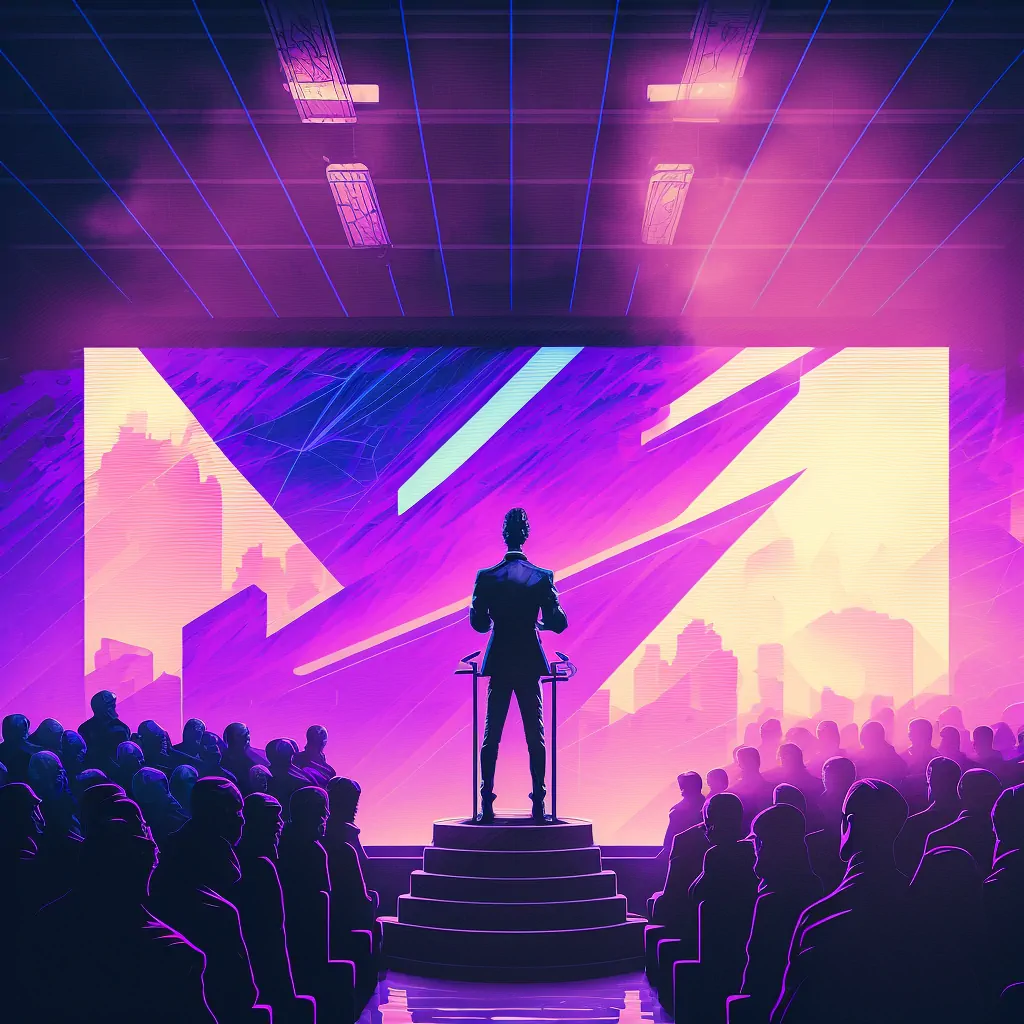 Read the Full Review
Memorable, Profitable, Virtual: How to Run Virtual Conferences, Conventions, and Trade Shows That Create Meaning, Value, and Lasting Connections is a guide written by Elias Puurunen, the founder of Tractus Events. After years of experience attending and running audio-visual support for in-person events, Puurunen noticed a shift to virtual experiences. The author has discovered uneasiness among event organizers as more people joined virtually, so he addresses their apprehensions by soothing concerns about budgets, agendas, time zone difficulties, content, networking, tech support, ticketing systems, necessary equipment, and program awareness, while also tackling ways to make sure the speakers reflect the effort you put into the event.
Elias Puurunen discusses the best and worst in-person and virtual experiences he has witnessed, outlining the benefits and challenges. Puurunen has a futuristic perspective with his audiences' concerns in mind as he touches on artificial intelligence and dwindling attention spans before he shows how to provide better experiences and connections with the current technology. The author debunks arguments against virtual venues, offering a fresh look at the potential for successful events. With a focus on quality, he provides readers with everything they need to know to manage a successful online event, like tips on what attendees appreciate and ways to keep them engaged. He also encourages readers to contact Tractus Events if they want their event professionally tailored to their needs. Puurunen invests in his readers' success by extending free agenda and communications templates. Memorable, Profitable, Virtual delivers on every point listed in the title and is a great selection for readers who are ready to invest in rewarding virtual events.
Courtnee Turner Hoyle
Readers' Favorite Reviewer
More Editorial Reviews for Memorable, Profitable, Virtual
"I've been in the events world for almost 15 years. I've enjoyed seeing the space change and adapt to new technologies. That's why I was so happy to read through the book. If every show manager I got to work with was half as knowledgeable and capable as Elias, I'd be overjoyed. He understands the unique challenges of technology-first events, hybrid events, and even in-person conferences. Even though I think he's a little biased against in-person events, I'd still trust him with anything I'm planning. He has seen it all, gone through it all, and he shares it all here in the book. Great read for anyone in the events space."
Jonathan Pritchard
ZAVANT Enterprises
"This is a valuable resource for anyone involved in events. As an A/V technician who works on events in Norway, I find it to be an essential guide to organizing successful online events. It covers everything from planning, marketing, execution, and post-event activities. While certain aspects, such as sponsorship, may be beyond my usual responsibilities, it is still beneficial to understand how they contribute to creating a memorable and successful online event.
As event professionals, locating reliable information on how to perform our job can be a challenge, and the information is often scattered across the internet. Thankfully, this book serves as a reference guide that we can use to begin working on online events."
Morten B. Stensland
PresentationTools A/S
"Memorable, Profitable, Virtual is a godsend to the event planning and management industry for new and vetted players. Decades of experience distilled keeps you hooked and informed. The industry is changing, and author Elias Puurunen breaks down why, how, and where we're headed with virtual augmenting how we gather. This book offers actionable tactics to plan and produce superior virtual events. A must-read for anyone in the event space."
Rocco Haro
Kickback Space Inc.
"Memorable, Profitable, Virtual is a perspective-shift for the entire event production industry. A Zoom meeting with working sound and video isn't enough to engage audiences anymore. Author Elias Puurunen shows you how to inspire audiences to action with a high-tech, professional-level virtual event setup even if you don't have a multi-six-figure budget. His book is the essential resource for event planners and digital marketers alike."
Emily Kingston
OP Consulting
"Whether you're hosting a corporate seminar, a marketing webinar, a tech startup tradeshow, or a religious service, Memorable, Profitable, Virtual shows you the best way to produce a virtual event. In fact, author Elias Puurunen argues that virtual events executed with excellence the way he teaches can make virtual superior to physical. It's a big promise, but Elias delivers. I recommend this book to anyone who needs to host a virtual event but doesn't want it to feel like just another Zoom meeting."
James Watson, the LinkedIn King
More Results Marketing
Read the Table of Contents and First Chapter
Table of Contents
Foreword by Julius Solaris, Founder of BoldPush
Chapter 1: The Biggest Takeaway from Every Event
Chapter 2: Seven Reasons Virtual Events (Can) Suck
Chapter 3: The Question to Ask before Holding an Event
Chapter 4: Don't Schedule a Virtual Event without This
Chapter 5: More Than a Webinar: The High-Production Value Your Event Needs
Chapter 6: Finding and Preparing Speakers to Sound Like Experts
Chapter 7: The Easy Way to Get Sponsors and Vendors to Throw You Money
Chapter 8: Getting Butts in Digital Seats: An Irreverent Guide to Event Promotion
Chapter 9: Writing Your Event Communications Plan
Chapter 10: The Truth about Virtual Rehearsals
Chapter 11: It's Not Over When It's Over
Chapter 12: Events in the Metaverse: Giving Your Attendees the Future, Today
Chapter 1: The Biggest Takeaway from Every Event
Think back to the last big event you attended.
You're there with the other guests, your name tag hanging off your lanyard. You pause to make sure the name side is facing out for the twentieth time today. You've got your favorite beverage in hand, and you're scanning the schedule—on an app, probably. There's a main session and a few breakaway opportunities for more laid-back, intimate learning.
You have high hopes. You're going to meet the right people; you're going to build key relationships that will last for years to come. You're taking photos to look back on. This is the moment when everything changes for your career, even your life.
With that in mind, you look out across the sea of faces. But none are looking back at you. In the main hall, by the refreshment tables, even going to and from the bathroom. Everywhere you look, heads are down, faces are blank, eyes are locked to screens. Those listening to the main speaker pretend to take notes. Some might actually be taking them, but you can't tell.
You're surrounded by people, and it's like you're not even there.
And it's not like they're even there, either. You could even say the event is a distraction from people's emails, their notifications that they were going to check anyway.
And you ask yourself this one question: Why am I here?
That's the state of in-person events. Most are not memorable or engaging. They're not worth it for disengaged attendees, in the moment or in hindsight. And they don't profit from the event's organizers.
Memorable, Profitable, and Virtual
An event's primary purpose is to be memorable and profitable—in the content people come for and the networking opportunities they gain. My career has been focused on using technology to improve both.
My fascination with event management began in high school. As president of the audiovisual (AV) club, I had keys to the school. I ran dozens of ceremonies, masses, and our graduations for free so paid employees wouldn't have to. It did feel rewarding to bring Hollywood glitz and glamour to otherwise dreary assemblies and events. Then in university, I was entrusted with a $25,000 projector as a member of the AV team for the 2009 Ontario Engineering Competition. There, I encountered the perception that in-person events were critical for financial and personal success. I envisioned banquets where networking would transform professional relationships, keynotes would change lives, and million-dollar deals would propel businesses to new heights.
Events seemed so memorable and profitable, I decided I could make a great career with them. I first built the app that would evolve into its own business for a company that wanted to track internal trade show attendees. Instead of collecting business cards in a fishbowl, they would get real-time data from their events. When we launched, we watched the metrics come in, giddy at the evident interest in our client's booth.
We never considered that these results had anything to do with the fact that the booth was giving away iPads. Sure, people engaged with the app, but the result was neither memorable nor profitable for the attendees or the exhibitors. Who wants to follow up with five hundred people with nothing to qualify them? I've been there personally—at a trade show where I had exhibited, we had hundreds of leads. What the hell do you do with all those business cards?
Around the same time, I modified the app, called Tractus, to be a corporate continuing-education event so they could track their attendance and engagement to earn their certificate. During sessions, I saw noses stuck in phones and laptops at every table. So I redesigned Tractus with visual elements tied into the event to improve engagement.
A few years later, I was running a Christian trade show. (Yes, such things exist.) I noticed declining interest in using the app. Exhibitors had no interest in the technology. They just wanted business cards for their fishbowls.
But other organizations were all about the app. They scanned and tracked the metrics, but exhibitors were just not attracting the numbers of attendees they needed. The conference decided that events weren't helping their bottom line. They were forgettable and unprofitable.
Based on these experiences, I decided to go even bigger with an all-in-one event management app that would let event management services break through those memory and profit barriers. As I did my market research, I saw other conferences and trade shows repeating the Christian trade show's results: thousands of dollars spent with no profit and low engagement. I got a glimpse of how expensive putting on these events is. But I needed to justify asking for even more money. I had sales calls with potential clients eager to improve their events with our technology. But in the end, both of their boards of directors said, "No more events." One even said they loved my app and the approach but were just going to do things online now.
And out of the hundreds or thousands of people you interact with at meet-and-greets, breakout sessions, and lunches, you'll form lasting, beneficial connections with four or five.
I know that looking out at an event hall crowd can be frightening, even overwhelming. As a recovering introvert and the lone newbie at a conference, that's hell on wheels. Because you're not just there to find people beneficial to talk to; you have to form deep relationships with them that last . . . and fast. Those key connections that transform your career trajectory, your business growth, and your life can be easy to miss. Most in-person networking is down to chance—mingle, try to spy who's worth talking to based on the way they're dressed, and maybe stalk them so you see their title on their name badge (if it's turned the right way around). And none of it has anything to do with the content of the event or the event's cost and profitability for the host and their sponsors.
Here's the devious part—because you were there in person, investing your time and energy, you feel you made connections. But did you? Of all the events I've attended, I can't think of ten people with whom I have a relationship to this day. If I strain, I can come up with five.
The way in-person events are run now stifles memorable content and obstructs new relationships. They're even worse at generating value and profit. That means the days of memorable and profitable in-person events are over.
We Could Have Done a Zoom: The True Cost of In-Person Events
Companies believe they need in-person events. They invest huge budgets in organizing and attending them. They believe they're worth it for brand awareness, networking, and other immeasurable outcomes. But they're fooling themselves. Hosting an in-person event is a great way to lose money and waste time.
You have to budget for the biggest costs right off the top: the venue, food and beverage, and presenters. Then you've got to factor in an event app, extra staff, travel costs, AV equipment, advertising, promotions, and more. To justify these budgets, the event must be profitable.
Even before the coronavirus pandemic, events were in trouble by every metric. For example, 40 percent of first-time exhibitors would only attend a show once. More than half of events experienced either no change or a decrease in their attendance in 2018. And fixed costs to hold events are only rising because the shows weren't profitable. There were no tools in place to count, contact, and convert bodies at the show into customers. Exhibition staff have little training in how to run a trade show booth. Plus they seldom read the documentation that the organizers send.
Organizers also face the challenge of making the most of everybody's time. Even a 5 percent increase in retaining exhibitors can lead to a 90 percent profit increase, especially when a high annual turnover is expected.
Remember that $25,000 projector we rented for our Ontario Engineering Competition event? AV support averages 16 percent of the cost of running an in-person conference, and that was pre-pandemic. Some of our clients have seen their AV costs double or more to go hybrid. Further, food and beverage, speakers, and AV directly affect the overall attendee experience. The Professional Convention Management Association recommends spending 55 percent of your budget on these three elements to ensure a memorable experience.
It's typical for AV companies to charge 10 percent of the cost of their equipment. Organizers then face the choice of renting the equipment and finding people to run it or hiring a team of experts. Either way, you're looking at ten-hour days of labor for setup, takedown, and the event itself. And don't forget Wi-Fi! At major convention centers in Ontario where I live, internet access for three hundred in-person attendees runs $10,000. These web service providers have exclusive contracts with the centers, so you can't BYOI (bring your own internet).
Now let's turn the "Holy crap!" factor up to eleven. The week I wrote this chapter, I priced a three-day event with that same number of attendees, three hundred. Not a small, intimate gathering but not a trade show. In fact, many weddings draw more guests than that. Anyhow, for this sample event I got quotes for, I made sure to include breakfast, lunch, and dinner on the first two days and breakfast and lunch on day three. One. The basics of the basics, included cheapest internet speed available to attendees.
The bare minimum you can get away with for that precise event in Ontario is $263,877.56. Expect it to run even higher in larger metropolitan areas. And this is all before making the event hybrid with live streams, remote video, and more.
The cost of physical events is staggeringly stupid. It's hard to retain exhibitors and recoup the amount that's needed for profitability. The idea of doing a yearly confab is becoming obsolete, too. Look how fast the world moves now versus when conferences first started. Virtual means speed. Why wait for an annual fixed date when the world is a different place at the end of the year? Use 2022 as an example—artificial intelligence was on the fringe. Now my dad uses it to write his emails.
Virtual events, unlike their in-person counterparts, require a much lower initial investment and a much faster speed to pull off. As far back as 1999, direct marketers recognized the financial advantage of virtual over physical events. From Direct Marketing, January 1999:
"A live seminar . . . can cost $5,000 per city for the room, equipment, travel, food, reception personnel, signs and other things. For a 30-city road show of the major U.S. metropolitan areas, that's a cost of $150,000. An outside speaker can add another $2,000 a day, for an additional $60,000. A teleconference, with a broader reach than just the 30 major metropolitan areas, would cost $20,000 with all the bells and whistles. Why would anyone want to spend 6.5 to 8.5 times more for less coverage?"
Conferences, conventions, and trade shows made sense in the 1970s. It was the one time each year a company would see and talk to their customers, regional employees, and colleagues. In the era before free long-distance calls, meeting face-to-face was a must.
Even into the early 2000s, in-person-only events made sense. The technology hadn't matured yet. Skype was new, and most people didn't have webcams. The only zooming going on was in the Mazda commercials.
Right up to the pandemic, most people didn't have a working video meeting setup. In the early days of the lockdowns, you could not beg, borrow, or steal a webcam. Scalpers resold them for up to four times the retail price. (I would know. I had to buy one for my wife so she could work remotely.)
But now, everyone is set up with mics, webcams, and headphones. Even the most ancient of old-school businesses have realized that if they don't have a website, they don't exist. Laggards across all industries know they cannot be in-person-only businesses.
During 2022, just after Ontario had opened up, I had just finished a two-day hybrid event. When the last session ended, everyone bolted for the exit like the building was on fire. They didn't stick around for networking because we were doing in person what could have been done on Zoom.
So why hadn't we video-conferenced? Hybrid events are popular, but they face the same low engagement as in-person-only events, complicated by the need for even better technology and planning.
In-person events don't offer networking opportunities anywhere near as potent as a few minutes on international social media. There, you can cold-message anyone in the world and can tell if they saw it.
Besides, flying speakers in on private jets to tell climate-change conference attendees to take the bus every day sends mixed signals. When done right, virtual events are memorable and profitable. They're better than even the most competent in-person event.
A recent example (as of this publication) of a well-executed virtual event was LevelUp by ClickUp 2023. They had clear sound and compelling visuals, the camera work was perfect from multiple angles, they engaged their audience with custom games and QR codes, and the set design was superb. They sweated over the little details, and it showed. I experienced no "Zoome fatigue." It was epic.
The Great Virtual Event
But not all virtual events are created equal. You need to distinguish a great one from basic Zoom call events. Then you'll learn how to schedule your virtual event and get the sponsors, advertisers, and attendees you need to fund it. You'll also discover how to run the tech side so people stay engaged the entire time. You'll learn how to curate a better experience than the in-person equivalent and further monetize the content to make it even more profitable at low or no additional cost.
This book is perfect for:
Marketing people generating qualified leads at scale, with the budget to do so
Human resources or operations people responsible for internal events on a more limited budget than marketing
Events committees responsible for holding quasi-hybrid in-person events
Online entrepreneurs who want to take full advantage of brand awareness, community-building, and mass viewership technologies
Anyone with a business and an online presence, or who wants both and aspires to be the super connector for their industry, doing what no one else does
Employees and entrepreneurs
Novelist Upton Sinclair said, "It's difficult to get a man to understand something when his salary depends upon his not understanding it." This book is not for corporate event planners clinging to the old promise of in-person events. If that's not you, read on. If your income depends on scheduling and hosting such gatherings and incorporating a little hybrid, this book is not for you. Feel free to get a refund.
Memorable, Profitable, Virtual is for those with an eye to see and an ear to hear the future. You just need an open mind. And because that's what I'm asking for, I've opened my mind to real concerns about virtual events, and I take them seriously. To make them memorable and profitable, we have to address and eliminate these concerns.
Ready to Read the Rest?
Even More Editorial Reviews for Memorable, Profitable, Virtual
"Elias takes you from rough ideas through to post-event activities and oh so much in between, all infused with humor. He provokes questions to dig deep into the whys of holding events, sprinkles lessons learned throughout, and pitfalls to avoid. Reading this book is like having an intimate conversation with an event expert pebble-dashed with examples, discussion points, and advice. Leaving you feeling confident in running an event."
Sam Kain
Purple Reset Publishing
"As soon as I delved into 'Memorable, Profitable, Virtual' by Elias Puurunen, I was engrossed by its real-world approach. Puurunen's authentic voice guides you like a mentor, sharing invaluable insights. Chapter 4, 'Don't Schedule a Virtual Event without THIS', was a personal favorite, offering a holistic view of essential elements for event success. Whether you are a seasoned professional or just getting started, this book is a treasure trove of insights and strategies to enhance your toolkit."
Andre Savic
VideoCom, makers of Zoom Bridge for NDI
"Elias Puurunen's book, "Memorable, Profitable, Virtual," is a valuable guide for executing complicated virtual events. Far from a simple procedural manual, Elias' book goes beyond simple instructions, providing breakdowns and explanations of complex systems and processes and presenting them with unparalleled clarity and precision.
Elias demonstrates a profound understanding of how to create meaningful, valuable, and financially rewarding virtual events. This book is essential reading for anyone that is attempting to organize a virtual event that creates substantial value, and delivers a significant return on investment."
Lucas Synott
Copyline Media
"If you're looking to host a virtual or hybrid event, and you want it to be the best it can be for your budget, you have to read Memorable, Profitable, Virtual. Author Elias Puurunen has years of experience and technical expertise to produce a successful virtual event that satisfies all stakeholders. A must-read for event planners, creators, and anyone who is curious about running an event for their brand."
A.J. Roy
Sinless Brands
"Imagine you must cross a vast jungle for an amazing treasure. The jungle has all manner of pitfalls, vipers, and other horrors. You stand there trembling knowing you must go in but have no idea if you'll make it out alive.
That's how it feels when planning or hosting an event.
Now imagine you have a guide that lays out each pitfall, viper, and horror you will encounter and how to vanquish them all with ease.
That's what Elias's book Memorable, Profitable, Virtual is: your guide through your event planning and hosting jungle.With this guide, you will emerge unscathed with the treasure of a lifetime."
Walter Wiggins
@TheWalterMagic