As a remote speaker, you must master the art of lighting. A well-lit speaker is a credible speaker. If your audience can clearly see you, you'll establish rapport, credibility, and authority with them.
You don't need to have studio-grade light panels to look your best. Many of the clients we work with have speakers who have never spoken to an audience at a virtual conference. When we record sessions with their speakers, we coach them through all the little lighting details.
In this article, we will cover how you can use natural or artificial light to light your scene. Remember, good light is a key detail that helps convey your authority to your audience.
The basics of lighting
To light yourself you need even light coverage with minimal shadows. This is done by using a correct camera angle, enough light, and properly positioned lights.
For more tips on camera angles, read our camera angle post.
First, make your camera level with your eyes. This will prevent you looking up or down which can cast shadows on your face.
Next, make sure you have enough lights. If you are recording in an office with a window, you have the best light possible. Face the window so the natural light illuminates your face evenly.
If you're recording at night or don't have a window, use at least two lights behind your camera. You can get away with one light, but you'll have potentially harsh shadows. More lights = evenly lit subject (you) and few shadows.
Finally, check to make sure your scene is free of lights (e.g. overhead lights).
Let's look at some framing examples using a typical laptop webcam.
Poor angle + overhead light = shadows, double-chin, and bright spots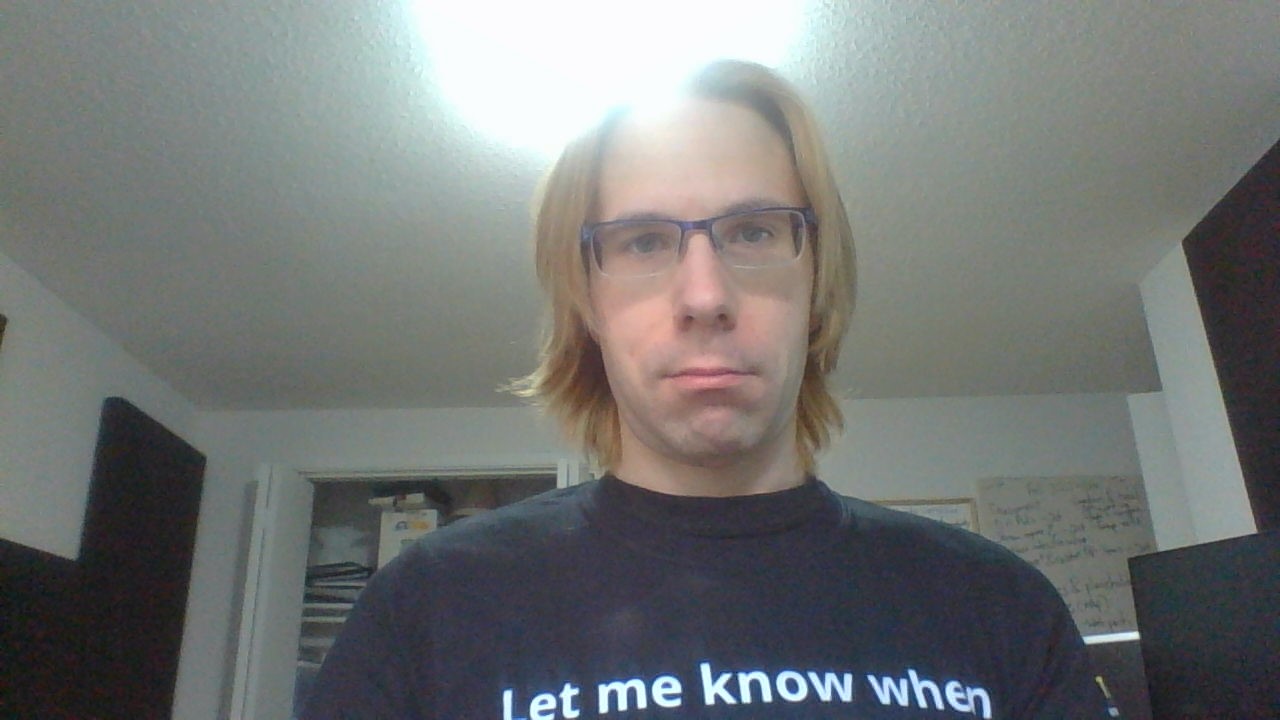 Notice the subject's head is cut off by the ceiling light. This is because the laptop was too low. The subject had to tilt the screen up. With the overhead light visible it washes out the scene which cuts off the subject. Finally, because of the camera angle the subject must look down. This creates the dreaded "double-chin" effect and shadows under their glasses.
Too much backlight = no details on the subject's face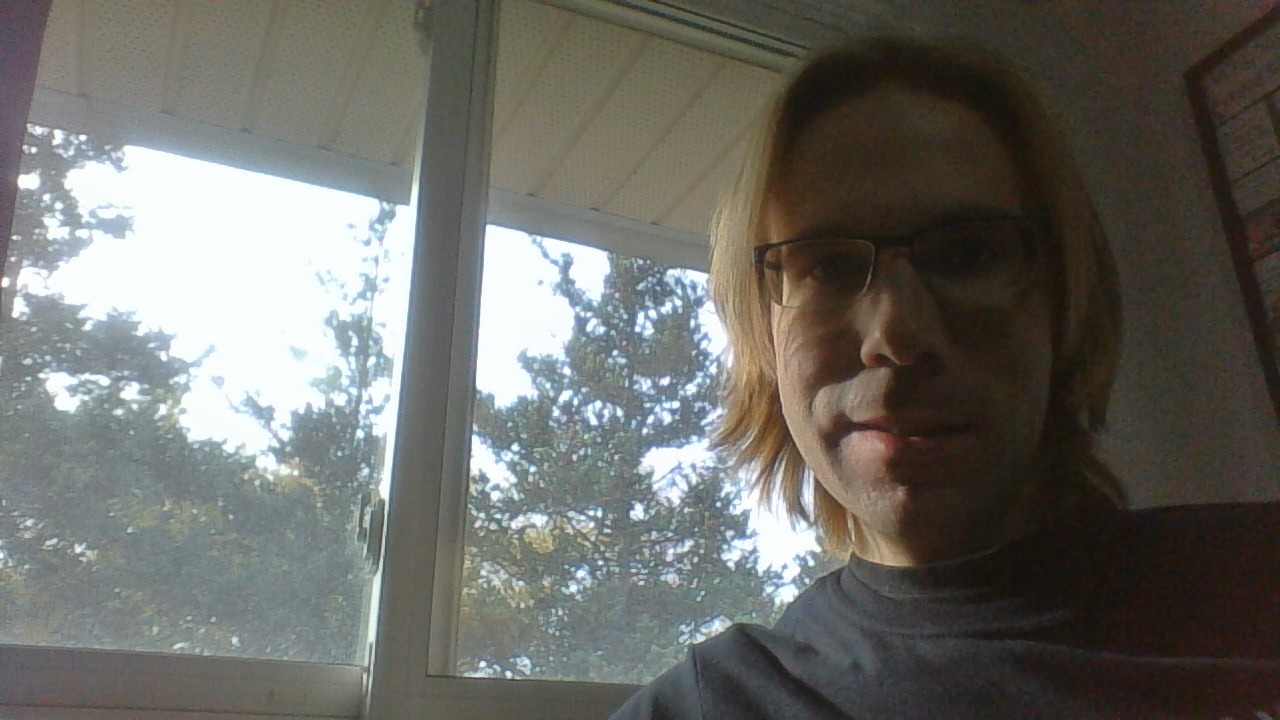 With a backlight (light behind the subject), the laptop webcam compensates by making the whole picture dark. The subject's face lacks detail and has harsh shadows. Notice how the scene looks "grainy." If the scene is too bright or too dark noise becomes visible.
Even light + level angle = Minimal shadows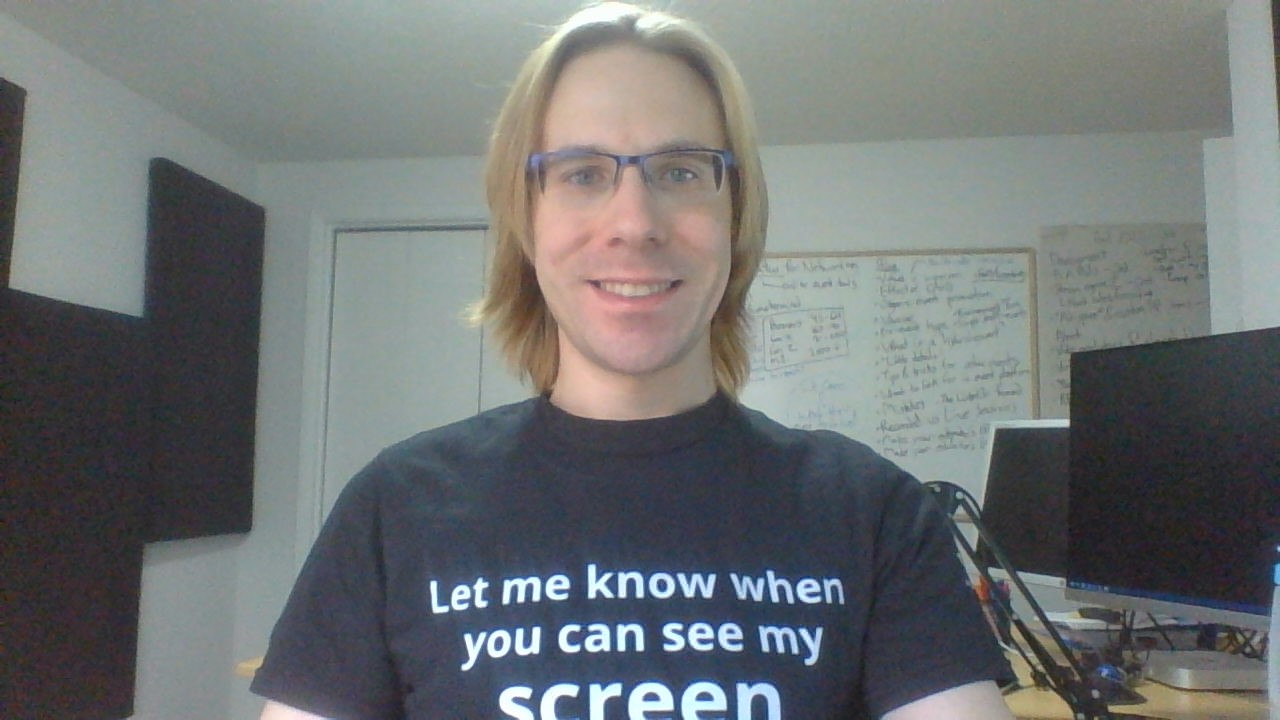 The light source is now behind the laptop. The subject also propped up their laptop on books. This makes the camera eye level with the subject. Well-lit, no double-chin, and no glare from the overhead lights. The subject could improve further by just using the outdoor lights and switch off the overhead light too.
Take your virtual event production to the next level
Whether you're a speaker at a virtual event, recording webinar content for yourself, or coaching your virtual event speakers, good lighting makes the difference between an amateur speaker and a professional speaker. It's only part of the professional online speaker equation. With the right camera angle and clean, crisp audio, you'll be positioned as a credible authority on your topic.
Our clients love that we work directly with their speakers to bring out their best, no matter their experience level. If your content looks and sounds good, you (and your speakers) will gain recognition as a credible authority on your topic. That will make the difference between attendees sticking around at your event and tuning out.